Expert Hardwood Flooring Company in Sandy Springs
Transform the look of your property by booking a professional hardwood floor installation service with Fantastic Services!
Fully insured and vetted technicians
Flexible schedule with full week availability
Using only high-end equipment to deliver quality results
Includes a damage inspection of the base flooring
Request a Quote
How does the service work?
Book your service online
You call one of our friendly representatives in order to receive your free quote or you send us an email with your requirements. If possible, provide pictures of the area that needs work.
We'll send a fully equipped technician to the address
We give you a quote and arrange a day and time that is convenient for you.
He will renovate your flooring project
We send out a certified professional that will immediately start working while you enjoy the rest of your day.
What to expect from our hardwood floor installation service?
Hardwood flooring always brings a certain class and warmth to a room. It's also quite easy to maintain and offers great design flexibility! It doesn't retain any pollen, dust and other allergens and can certainly add lasting value to your home if you decide to sell it.
On the day of the service, the hardwood floor experts will arrive at your property fully equipped with all the needed tools. They start with the demolition and removal of any previous flooring and then, they will prepare the subfloor. They will check for any damage and repair it if possible. After that, the expert will install your new flooring, the necessary transition strips, wall trims and clean the debris.
In the end, he will apply the finish, depending on the type of hardwood floor that you've chosen.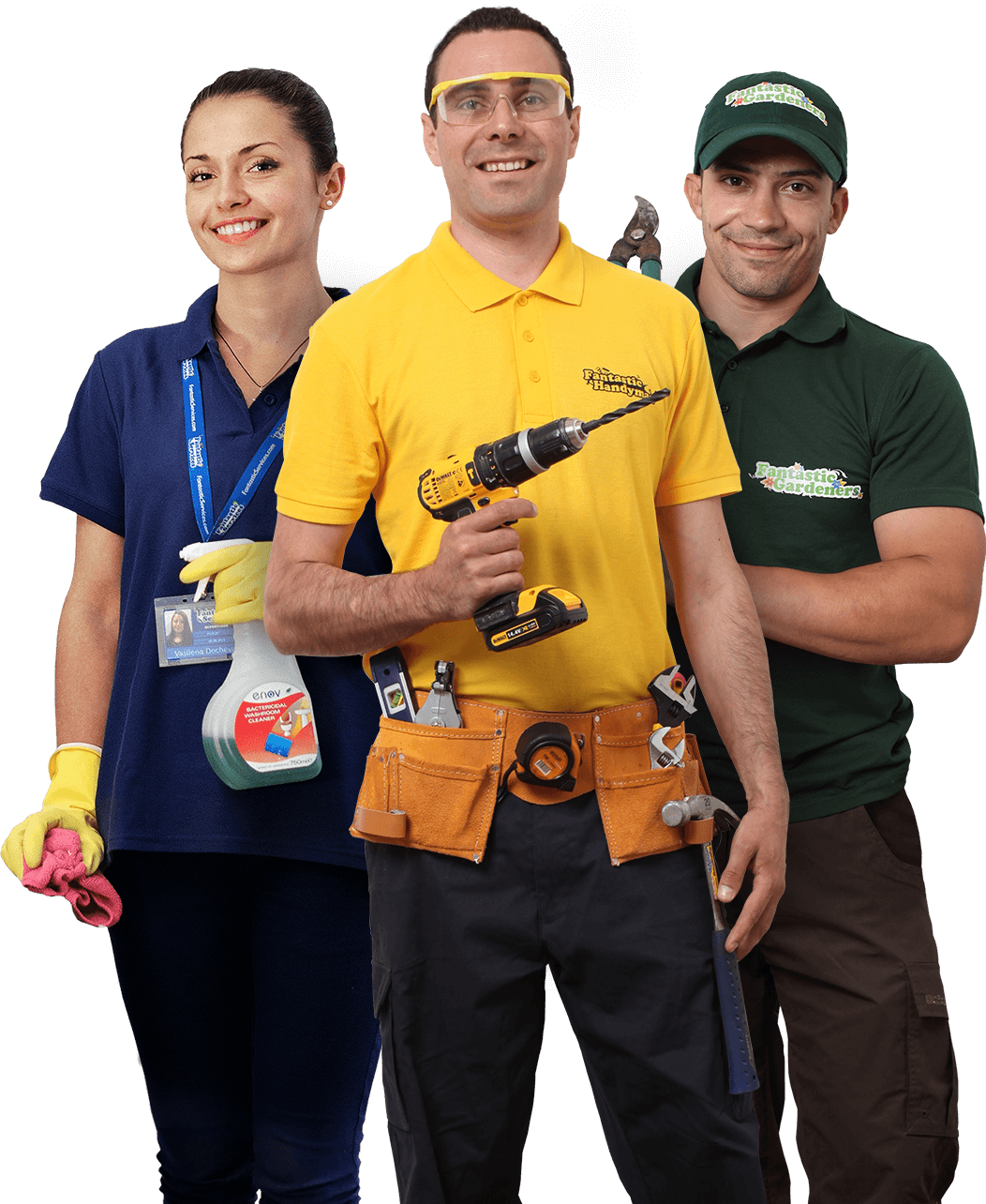 Why go with the professionals of Fantastic Services?
Diligent specialists
Personally interviewed and fully insured
Presentable with their uniforms and branded vehicles
Following the company's high standards
Trained to be the best
Using only industry-approved equipment
With years of experience in their field of work
Specially trained to provide our clients with a high-quality service
Lovely folks
Friendly and always working with a smile
Offering their professional advice when it's needed
Customer-oriented and always ready to help
What are our customers saying about their hardwood flooring installation?
Thank you Fantastic Services!
Very happy with the service. My floor looks amazing with the new kitchen and it's so easy to clean!
Jane D.
Amazing service
Very punctual people and really satisfied with the way that they worked
Michael A
Good work and helpful staff
I wasn't sure if hardwood was the flooring for me but the guy who came for the survey gave me some really cool tips and showed me the pros of having hardwood. Now I don't know how I've lived without it.
Amy K.
Where to find our fantastic hardwood flooring service?
We cover the whole Atlanta Metro Area, so no matter if you are in Acworth, Marietta or Sandy Springs, we can send out an expert right away!
Working hours:
Call Hours:
Mon to Sun:

24/7 Support



Working Hours:
Flexible by appointment
Frequently Asked Questions
Q: Are you fully Insured?

A: All of the technicians are insured in case of damage. If you notice anything, please call our Customer Service department and they will gladly assist you.

Q: How do I get my hardwood floor to look like it did when it was new?

A: There are products that can be applied to wood floors, prefinished with a urethane sealer that will renew the floor back to its original appearance. Always read the label first and use only the manufacturer's recommended products.

Q: Can you come on a weekend to view and estimate my project?

A: Absolutely! We can send out a professional surveyor every day of the week, no matter if it's during the weekend or on a public holiday!

Q: Are hardwood floors difficult to maintain?

A: As a matter of fact, no. Hardwood floors are actually rather easy to maintain. A routine sweeping and mopping are all you need for a beautiful floors.
Hardwood flooring is not your thing? Check out what else we can install for you!
!We can provide you with many more property cleaning and maintenance services!