High-quality Hardwood Floor Refinishing in Sandy Springs
Revive the initial shine of your hardwood floor with Fantastic Services
Using only professional finishes
Certified and fully insured experts
Full week availability, including weekends
Bringing back the original look of your floor
Request a Quote
How to organize your hardwood floor refinishing appointment?
Book your service online
You can send us an email with your request and we will send you your free price estimate. You can also give us a quick call and one of your friendly sales representatives will give you a quote on the spot.
We'll send a fully equipped technician to the address
You choose a day and time that is convenient for you, no matter if it's a public holiday or during the weekend. We send out a fully equipped professional technician.
He will renovate your flooring project
He will start working right away and in no time you will have your hardwood floors looking brand new and shiny!
What does the hardwood refinishing service consist of?
Before the service starts, you will have to choose the perfect hardwood floor finish for your property. We work with three different types:
Polyurethane. Either oil- or water-based, polyurethane comes in various degrees of luster and has a sort of plastic look. Both finish types darken or even yellow wood and are excellent for high-traffic and high-moisture rooms and areas.
Varnish. Varnish comes in a variety of lusters, from matte to glossy. The higher the level of gloss, the more durable the surface. Varnish often darkens with age. On the upside, you can make spot-repairs to varnish.


Penetrating sealer. This type of product offers a natural-looking finish that brings out the wood's grain; however, it may darken over time. A penetrating sealer offers good protection, especially when waxed. However, it's less durable than polyurethane or varnish and you may have to repeat the refinishing process a bit more often.
Before the service starts, you will have to choose the perfect hardwood floor finish for your property. We work with three different types:
The professional will first move any light furniture out of the way in order to reach as much area as possible. If there is any bigger furniture that needs to be moved, we will ask for you to do this prior to the service.
He will seal all the doorways with tape and plastic sheets so that the fumes stay inside.
The technician will start by sanding the surface to make sure it's completely even and all of the accumulated dirt will be then removed
After cleaning the dust, the expert will now apply the hardwood floor wax of your choice.
The only thing left now is to wait for the hardwood floor polish to dry and you can put back all the furniture and enjoy your shiny floor!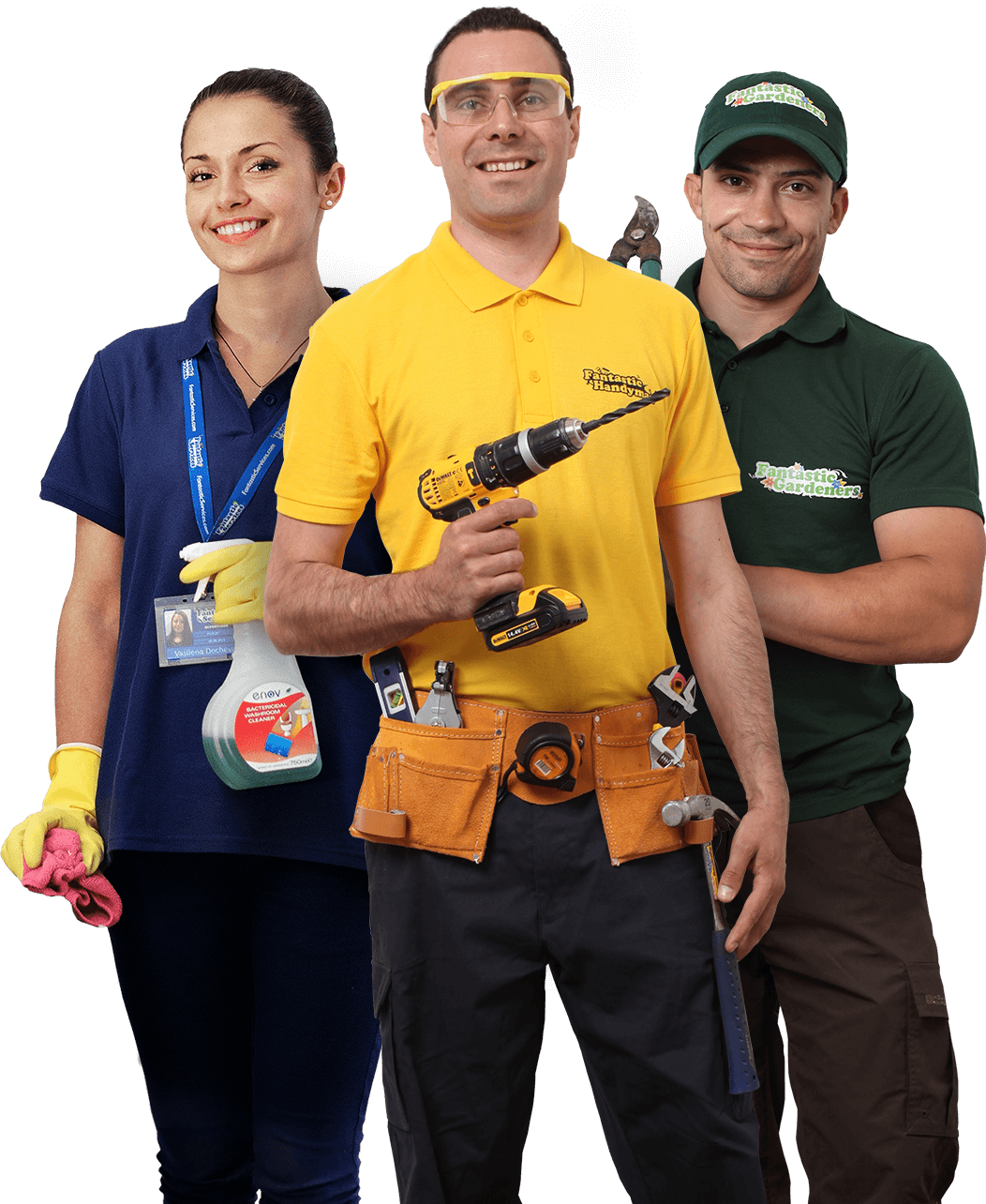 Meet the Fantastic Professionals
Trustworthy specialists
Completely insured and certified experts
Prompt, reliable and uniformed
Gone through a full background check
Experienced in their trade
Working every day to improve their skills
Using only high-end equipment and products
Specially trained to meet your high standards
Friendly people
Customer-oriented specialists
Offering useful advice when it's needed
Completing the job according to your preferences
What customers are saying about our floor refinishing service?
Loved the service!
The hardwood floor in my living room looked very used and sad and I've been covering it with rugs for years. Now I can finally enjoy it after it's been refinished.
Betty C.
Very satisfied with the guy's work.
He explained everything while working and watching him do his job was really interesting.
Mark J.
Remarkable Service
Thank you Fantastic Services for this amazing experience! The booking
Jenny G.
Where to find our fantastic hardwood floor refinishing service?
You can book an appointment with us if you live anywhere in the Atlanta Metro area. Take a look at our coverage!
Working hours:
Call Hours:
Mon to Sun:

24/7 Support



Working Hours:
Flexible by appointment
Frequently Asked Questions
Q: When can our pets walk on the floor?

A: We recommend that you wait at least two days before letting any pets walk on the floors.

Q: Can you use finishing materials I've already purchased?

A: We are happy to discuss and consult you on what materials to use for your hardwood floor refinishing project, as well as deliver them for you, upon request.

Q: Do I need to prepare anything for the service?

A: The technician will arrive fully equipped. However, you should remove any heavy furniture if you need the area underneath to be refinished.

Q: What precise types of floor restoration do you offer?

A: We provide hardwood floor polishing, waxing, oiling of any wooden floors, hardwood floor sanding.
We can do much more than hardwood floor refinishing:
Take advantage of the other cleaning and home maintenance services that we offer.